Posts for tag: tooth wear
By Gregory L Palozola D.D.S. P.C.
August 17, 2021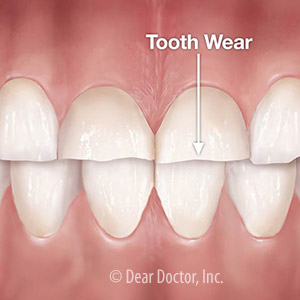 If you do the right things—keep your teeth clean, see the dentist regularly, and eat a "tooth-friendly" diet—you stand a good chance of having healthy teeth and gums later in life. Even so, after eating well over 75,000 meals by age 70, you can expect some wear from all that biting and chewing.
But there's normal wear—and then there's excessive wear, which can be caused by a variety of factors. When it occurs, accelerated wear can increase your risk of dental disease—and your shorter-toothed smile can make you look older than your actual age.
Here are 3 dental problems that can lead to accelerated tooth wear, and what you can do about them.
Tooth decay. This dental disease can severely weaken a tooth's protective enamel surface, which can in turn increase wear. You can minimize your chances of developing tooth decay by brushing and flossing your teeth daily and undergoing regular dental cleanings. And the sooner you receive treatment for any diagnosed decay, the less likely your enamel will suffer significant damage.
Poor bite. Properly aligned teeth mesh well together while biting and chewing, which minimizes wearing. But misalignments put undue stress on teeth that can lead to accelerated wear. By correcting a bite problem through orthodontics, we can properly align teeth so that they interact with each other normally for less wear.
Teeth grinding. This unconscious habit of gnashing or grinding teeth (often during sleep) can produce abnormally high biting forces. Among other adverse outcomes, this can also increase teeth wearing. If you grind your teeth, there are therapeutic methods that could reduce the habit. You can also obtain a custom night guard to reduce biting forces while you sleep.
If you've already experienced excessive dental wear, there are cosmetic options like porcelain veneers or dental bonding that can restore your smile to a more youthful appearance and help protect your teeth. But if you haven't reached that point, you can make sure you don't by taking care of your teeth and gums and seeking prompt dental treatment for problems leading to accelerated wear.
If you would like more information on teeth wear, please contact us or schedule an appointment for a consultation. You can also learn more about this topic by reading the Dear Doctor magazine article "How and Why Teeth Wear."
By Gregory L Palozola D.D.S. P.C.
July 18, 2021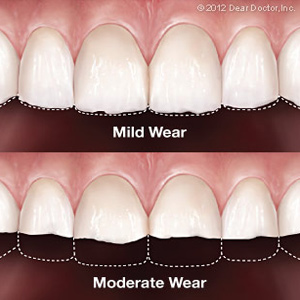 Teeth are naturally strong and durable — if we can prevent or control dental disease like tooth decay or gum disease, they can last a lifetime. Still, teeth do wear gradually as we age, a fact we must factor into our dental care as we grow older.
Sometimes, though, the wear rate can accelerate and lead to problems much earlier — even tooth loss. There are generally four ways this abnormal wear can occur.
Tooth to tooth contact. Attrition usually results from habitual teeth grinding or clenching that are well beyond normal tooth contact. Also known as bruxism, these habits may occur unconsciously, often while you sleep. Treatments for bruxism include an occlusal guard worn to prevent tooth to tooth contact, orthodontic treatment, medication, biofeedback or psychological counseling to improve stress coping skills.
Teeth and hard material contact. Bruxism causes abrasion when our teeth regularly bite on hard materials such as pencils, nails, or bobby pins. The constant contact with these and other abrasive surfaces will cause the enamel to erode. Again, learning to cope with stress and breaking the bruxism habit will help preserve the remaining enamel.
Chronic acid. A high level of acid from foods we eat or drink can erode tooth enamel. Saliva naturally neutralizes this acid and restores the mouth to a neutral pH, usually within thirty minutes to an hour after eating. But if you're constantly snacking on acidic foods and beverages, saliva's buffering ability can't keep up. To avoid this situation, refrain from constant snacking and limit acidic beverages like sodas or sports drinks to mealtimes. Extreme cases of gastric reflux disease may also disrupt your mouth's pH — seek treatment from your medical doctor if you're having related symptoms.
Enamel loss at the gumline. Also known as abfraction, this enamel loss is often caused by receding gums that expose more of the tooth below the enamel, which can lead to its erosion. Preventing and treating gum disease (the leading cause of receding gums) and proper oral hygiene will lower your risks of receding gums and protect tooth enamel.
If you would like more information on tooth wear, please contact us or schedule an appointment for a consultation. You can also learn more about this topic by reading the Dear Doctor magazine article "How and Why Teeth Wear."
By Gregory L Palozola D.D.S. P.C.
September 08, 2014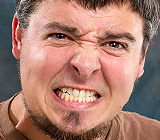 You may not realize it, but the simple act of eating can generate a tremendous amount of force on teeth and jaws. Fortunately, your teeth can absorb much of this biting force — but within limits. If the force exceeds normal limits on a continual basis, you may begin to notice aching teeth or sore jaws, and we may begin to notice unusual tooth wear during your dental checkups.
The most common cause for this is a chronic habit of grinding or clenching the teeth, also known as bruxism. It can manifest itself by teeth grinding against each other, teeth pressing against soft tissue (as with thumb-sucking) or biting or chewing on hard objects such as pencils or nails. We commonly see bruxism with patients who are experiencing excessive stress, sleep-related problems or as a result of lifestyle habits such as smoking or excessive alcohol consumption. You may not even be consciously aware of it as in the case of bruxism that occurs while you sleep, but your sore jaws in the morning (as well as your sleeping partner's complaints of noise) may be evidence of it.
Treatment involves a two-part approach. First, we want to relieve the pain symptoms and stop the damage. To relieve pain we'll often prescribe mild, anti-inflammatory or muscle-relaxant drugs, or perhaps medication to help you sleep better. We may also design a bite guard for wear on your upper teeth at night: the lower teeth will tend to glide or skate on the wear-resistant plastic and prevents them from placing excessive forces on your teeth.
The other part is to address the underlying cause for long-term results. If the habit arises from severe stress or other lifestyle issues, we may recommend biofeedback therapy or psychotherapy to improve your coping mechanisms. If an abnormality like a bad bite (malocclusion) is an underlying factor, we may recommend a minor bite adjustment by reshaping the teeth to lessen the bite impact.
The right course of action depends on a thorough dental examination to determine the exact nature of your clenching or grinding habit. From there we can discuss your options on how to relieve the soreness and pain, as well as prevent problems in the future.
If you would like more information on bruxism and its effects, please contact us or schedule an appointment for a consultation. You can also learn more about this topic by reading the Dear Doctor magazine article "Stress & Tooth Habits."