Posts for tag: pediatric dentistry
By Gregory L Palozola D.D.S. P.C.
January 19, 2019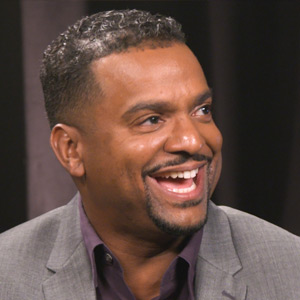 If there's anything that makes Alfonso Ribeiro happier than his long-running gig as host of America's Funniest Home Videos, it's the time he gets to spend with his family: his wife Angela, their two young sons, and Alfonso's teenaged daughter. As the proud dad told Dear Doctor–Dentistry & Oral Health magazine, "The best part of being a father is the smiles and the warmth you get from your children."
Because Alfonso and Angela want to make sure those little smiles stay healthy, they are careful to keep on top of their kids' oral health at home—and with regular checkups at the dental office. If you, too, want to help your children get on the road to good oral health, here are five tips:
Start off Right—Even before teeth emerge, gently wipe baby's gums with a clean, moist washcloth. When the first teeth appear, brush them with a tiny dab of fluoride on a soft-bristled toothbrush. Schedule an age-one dental visit for a complete evaluation, and to help your child get accustomed to the dental office.
Teach Them Well—When they're first learning how to take care of their teeth, most kids need a lot of help. Be patient as you demonstrate the proper way to brush and floss…over and over again. When they're ready, let them try it themselves—but keep an eye on their progress, and offer help when it's needed.
Watch What They Eat & Drink—Consuming foods high in sugar or starch may give kids momentary satisfaction…but these substances also feed the harmful bacteria that cause tooth decay. The same goes for sodas, juices and acidic drinks—the major sources of sugar in many children's diets. If you allow sugary snacks, limit them to around mealtimes—that gives the mouth a chance to recover its natural balance.
Keep Up the Good Work—That means brushing twice a day and flossing at least once a day, every single day. If motivation is an issue, encourage your kids by letting them pick out a special brush, toothpaste or floss. You can also give stickers, or use a chart to show progress and provide a reward after a certain period of time. And don't forget to give them a good example to follow!
Get Regular Dental Checkups—This applies to both kids and adults, but it's especially important during the years when they are rapidly growing! Timely treatment with sealants, topical fluoride applications or fillings can often help keep a small problem from turning into a major headache.
Bringing your kids to the dental office early—and regularly—is the best way to set them up for a lifetime of good checkups…even if they're a little nervous at first. Speaking of his youngest child, Alfonso Ribeiro said "I think the first time he was really frightened, but then the dentist made him feel better—and so since then, going back, it's actually a nice experience." Our goal is to provide this experience for every patient.
If you have questions about your child's dental hygiene routine, call the office or schedule a consultation. You can learn more in the Dear Doctor magazine article "How to Help Your Child Develop the Best Habits for Oral Health."
By Gregory L Palozola D.D.S. P.C.
December 11, 2014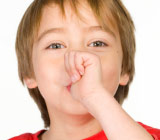 Are the following statements true or false?
Thumb sucking in children may cause problems with their teeth later on.
A: TRUE
Prolonged thumb sucking may be responsible for many problems with the bite. The constant pressure of the thumb itself can create a gap between the top and bottom teeth in front, a condition called an "open bite." It also reinforces the habit of using the "tongue thrust" motion in swallowing, where the tongue is positioned between top and bottom teeth. This habit may also block full eruption of the front teeth.
Infants and young children swallow exactly the same way that adults do.
A: FALSE
When they swallow, young children use what is called the "infantile swallowing pattern." In this method, which begins before their teeth have erupted, the tongue is thrust forward in the mouth, sealing and supporting the lips. In adult swallowing, the tongue touches the roof of the mouth, behind the front teeth. The transition from the infantile method usually happens naturally, by around age 4.
Most open bites result from the habit of positioning the tongue too far forward.
A: TRUE
Failure to transition between the infantile and adult swallowing pattern is believed to be the cause of most open bites. The tongue's position alone may prevent the front teeth from fully developing. Allowing the thumb to rest between the teeth has the same effect — and it can also push the front teeth forward. Other causes of an open bite are skeletal or jaw-related problems.
It is harder to cure open bites caused by thumb sucking or bad tongue position than those from other causes.
A: FALSE
Open bites that are caused by skeletal factors (patterns of bone growth, etc) are often difficult to resolve. Those caused by dental factors (tongue position, tooth eruption, etc) are generally easier to fix. However, the pressure exerted by the thumb over a long period of time can influence bone growth in the jaw.
There is a dental appliance that can help discourage thumb sucking.
A: TRUE
A thin metal "tongue crib" placed behind upper and lower incisors discourages the thumb-sucking habit. It also helps to "re-train" the tongue, keeping it from going between upper and lower teeth. To successfully treat an open bite caused by dental factors, and to prevent its reoccurrence, it is essential to eliminate the unhelpful habits of both the thumb and the tongue.
If you would like more information about thumb sucking or open-bite problems in children, please contact us or schedule an appointment for a consultation. You can also learn more about this topic by reading the Dear Doctor magazine article "How Thumb Sucking Affects The Bite."
By Gregory L. Palozola, D.D.S., P.C.
September 16, 2013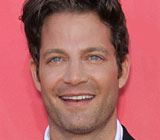 When it comes to dental health, you might say celebrity interior designer and television host Nate Berkus is lucky: Unlike many TV personalities, he didn't need cosmetic dental work to achieve — or maintain — his superstar smile. How did he manage that? Nate credits the preventive dental treatments he received as a youngster.
"I'm grateful for having been given fluoride treatments and sealants as a child. Healthy habits should start at a young age," he told an interviewer from Dear Doctor magazine. We couldn't have said it better — but let's take a moment and examine exactly what these treatments do.
Fluoride treatment — that is, the topical (surface) application of a concentrated fluoride gel to a child's teeth — is a procedure that's often recommended by pediatric dentists. Although tooth enamel is among the hardest substances in nature, fluoride has been shown to make it more resistant to tooth decay. And that means fewer cavities! Studies show that even if you brush regularly and live in an area with fluoridated water, your child could still benefit from the powerful protection of fluoride treatments given at the dental office.
Another potent defense against cavities is dental sealants. Despite your child's best efforts with the toothbrush, it's still possible for decay bacteria to remain in the "pits and fissures" of the teethâ??those areas of the molars, for example, which have tiny serrated ridges and valleys where it's easy for bacteria to grow. Dental sealants fill in and protect vulnerable areas from bacterial attack, greatly decreasing the risk that future dental treatment will be required.
Why not take a tip from our favorite celebrity interior designer, and ask about cavity-preventing treatments for your children's teeth? If you would like more information about fluoride treatments or dental sealants, please contact us for a consultation. You can learn more in the Dear Doctor magazine articles "Topical Fluoride" and "Sealants for Children."