Posts for: December, 2021
By Gregory L Palozola D.D.S. P.C.
December 15, 2021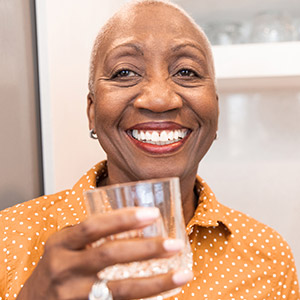 We all experience that unpleasant "cotton-mouth" feeling now and again. But what if it happens all the time? Chronic dry mouth is more than unpleasant—it could be a medical condition that threatens your oral health.
Chronic dry mouth is a sign you don't have enough saliva present. That's a problem because we need saliva to keep our teeth and gums healthy by neutralizing the oral acid that erodes tooth enamel. Saliva also supplies antibodies to fight infection.
A saliva deficiency could be the result of lifestyle habits like drinking alcohol or smoking, metabolic diseases or treatments like chemotherapy or radiation. More commonly, though, it's a side effect from a medication you're taking.
Given the heightened risk it causes to your teeth and gums, what can you do to alleviate chronic dry mouth?
Review your medications. If you're taking prescribed medications, talk with your pharmacist or doctor about possible oral side effects associated with any of them. If so, it may be possible to switch to an alternative medication without the dry mouth side effect.
Don't use tobacco. Regardless of whether you smoke, dip or chew, tobacco use can interfere with saliva production. Kicking the habit not only improves saliva flow, it may further reduce your risk for oral diseases, especially oral cancer.
Drink more water. Saliva is mainly composed of water—so, be sure your body has plenty of it to facilitate saliva production. It's a good idea to sip extra water throughout the day, and especially before and after you take medication.
Practice oral hygiene. As a general rule, brushing and flossing every day is pivotal in preventing dental disease—but it's especially important with dry mouth. Be sure, then, to brush twice and floss once every day. You should also see your dentist at least every six months for dental cleanings and checkups.
Chronic dry mouth could be setting you up for future dental disease. But taking steps to alleviate it while practicing daily dental care could help you avoid that unhappy outcome.
If you would like more information on alleviating chronic dry mouth, please contact us or schedule an appointment for a consultation. You can also learn more about this topic by reading the Dear Doctor magazine article "10 Tips for Dealing With Dry Mouth."
By Gregory L Palozola D.D.S. P.C.
December 05, 2021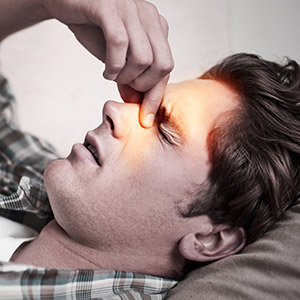 It seems like every year you make at least one trip to the doctor for a sinus infection. You might blame it on allergies or a "bug" floating around, but it could be caused by something else: tooth decay.
We're referring to an advanced form of tooth decay, which has worked its way deep into the pulp and root canals of a tooth. And, it could have an impact on your sinuses if the tooth in question is a premolar or molar in the back of the upper jaw.
These particular teeth are located just under the maxillary sinus, a large, open space behind your cheek bones. In some people, these teeth's roots can extend quite close to the sinus floor, or may even extend through it.
It's thus possible for an infection in such a tooth to spread from the tip of the roots into the maxillary sinus. Unbeknownst to you, the infection could fester within the tooth for years, occasionally touching off a sinus infection.
Treating with antibiotics may relieve the sinus infection, but it won't reach the bacteria churning away inside the tooth, the ultimate cause for the infection. Until you address the decay within the tooth, you could keep getting the occasional sinus infection.
Fortunately, we can usually treat this interior tooth decay with a tried and true method called root canal therapy. Known simply as a "root canal," this procedure involves drilling a hole into the tooth to access the infected tissue in the pulp and root canals. After removing the diseased tissue and disinfecting the empty spaces, we fill the pulp and root canals and then seal and crown the tooth to prevent future infection.
Because sinus infections could be a sign of a decayed tooth, it's not a bad idea to see a dentist or endodontist (root canal specialist) if you're having them frequently. Treating it can restore the tooth to health—and maybe put a stop to those recurring sinus infections.
If you would like more information on the connection between tooth decay and sinus problems, please contact us or schedule an appointment for a consultation. You can also learn more about this topic by reading the Dear Doctor magazine article "Sinusitis and Tooth Infections."