Posts for: September, 2014
By Gregory L Palozola D.D.S. P.C.
September 23, 2014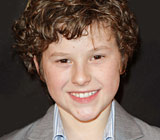 Nolan Gould of the hit TV show Modern Family has an uncommon gift for comedy, but he also has a very common orthodontic problem: too many teeth for the size of his mouth, which often results in "crowding."
"My teeth used to be pretty messed up," Nolan recently told Dear Doctor magazine in an exclusive interview. "I had two extra teeth when I was born. They hadn't come out (erupted) yet. And all the other teeth that were already there were starting to point backwards because it was getting so crowded in my mouth. They had to remove those two (extra) teeth," he said.
Although being born with extra teeth is somewhat unusual, needing to have teeth extracted for orthodontic reasons is not. In fact, orthodontic treatment often involves removing teeth to relieve crowding. It makes sense when you think about it: When there are too many teeth for the size of the dental arches (upper and/or lower jaws) or the teeth are larger in size than the dental arch can accommodate, there may not be enough space to align them properly. The necessary space can be created by removing teeth.
The teeth most frequently extracted for orthodontic reasons are the first bicuspid teeth. These are the ones right between the cuspid, or eyeteeth (under the eyes) and the molars (biggest back teeth). Once there is enough space, the orthodontist can choose from a variety of orthodontic appliances to align the teeth, depending on the specific needs of the individual.
In Nolan's case, it was the extra two teeth he was born with that were removed. Afterwards, the young actor's orthodontist was able to shift Nolan's remaining teeth into proper alignment using orthodontic appliances called Crozats. Made of metal wires, Crozats go around the back teeth and behind the front teeth, making them virtually invisible.
"You can remove them, which is really good for acting, especially because you can't see them," Nolan explained. "I can wear them 24/7 and nobody will ever notice."
Nolan's orthodontic appliances may not be noticeable, but his fabulous smile certainly is!
If you would like to learn more about improving tooth alignment with orthodontics, please contact us today to schedule an appointment for a consultation. If you would like to read Dear Doctor's entire interview with Nolan Gould, please see "Nolan Gould." Dear Doctor also has more on "Tooth Removal for Orthodontic Reasons."
By Gregory L Palozola D.D.S. P.C.
September 08, 2014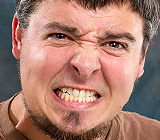 You may not realize it, but the simple act of eating can generate a tremendous amount of force on teeth and jaws. Fortunately, your teeth can absorb much of this biting force — but within limits. If the force exceeds normal limits on a continual basis, you may begin to notice aching teeth or sore jaws, and we may begin to notice unusual tooth wear during your dental checkups.
The most common cause for this is a chronic habit of grinding or clenching the teeth, also known as bruxism. It can manifest itself by teeth grinding against each other, teeth pressing against soft tissue (as with thumb-sucking) or biting or chewing on hard objects such as pencils or nails. We commonly see bruxism with patients who are experiencing excessive stress, sleep-related problems or as a result of lifestyle habits such as smoking or excessive alcohol consumption. You may not even be consciously aware of it as in the case of bruxism that occurs while you sleep, but your sore jaws in the morning (as well as your sleeping partner's complaints of noise) may be evidence of it.
Treatment involves a two-part approach. First, we want to relieve the pain symptoms and stop the damage. To relieve pain we'll often prescribe mild, anti-inflammatory or muscle-relaxant drugs, or perhaps medication to help you sleep better. We may also design a bite guard for wear on your upper teeth at night: the lower teeth will tend to glide or skate on the wear-resistant plastic and prevents them from placing excessive forces on your teeth.
The other part is to address the underlying cause for long-term results. If the habit arises from severe stress or other lifestyle issues, we may recommend biofeedback therapy or psychotherapy to improve your coping mechanisms. If an abnormality like a bad bite (malocclusion) is an underlying factor, we may recommend a minor bite adjustment by reshaping the teeth to lessen the bite impact.
The right course of action depends on a thorough dental examination to determine the exact nature of your clenching or grinding habit. From there we can discuss your options on how to relieve the soreness and pain, as well as prevent problems in the future.
If you would like more information on bruxism and its effects, please contact us or schedule an appointment for a consultation. You can also learn more about this topic by reading the Dear Doctor magazine article "Stress & Tooth Habits."