Posts for: April, 2014
By Gregory L Palozola D.D.S. P.C.
April 17, 2014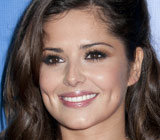 What if you had orthodontic treatments to enhance your smile — and nobody knew about it until it was all done?
That (almost) happened to British singer, cover girl and television personality Cheryl Cole. Since her big break in 2002, on the British reality show Popstars: The Rivals, Cole has had a successful music career, taken turns judging both the British and American versions of The X Factor, and graced the covers of fashion magazines like Elle and Harpers Bazaar.
And somewhere along the way, Cole wore an orthodontic appliance. It very nearly went undetected… until a colleague spilled the beans. That's when Cole was forced to divulge her secret: For a period of time, she had been wearing clear aligners on her teeth. Until her frenemy's revelation, only a few people knew — but when you compare the before-and-after pictures, the difference in her smile is clear.
So what exactly are clear aligners? Essentially, they consist of a series of thin plastic trays that are worn over the teeth for 22 hours each day. The trays are custom-made from a computerized model of an individual's mouth. Each tray is designed to move the teeth a small amount, and each is worn for two weeks before moving on to the next in the series. When the whole series is complete, the teeth will have shifted into their new (and better aligned) positions.
Besides being virtually unnoticeable, aligners are easy to remove. This makes it easy to keep the teeth clean — and can come in handy for important occasions (like cover-photo shoots and acceptance speeches). But don't remove them too frequently, or they won't work as planned. If that's a possibility (with teens, for example), aligners are available with "compliance indicators" to ensure they're being worn as often as they should be. They can also be made with special tabs to hold a place for teeth that haven't fully erupted (come in) yet — another feature that's handy for teens.
So if you need orthodontic work but prefer to stay "under the radar," ask us whether clear aligners could be right for you. Cheryl Cole did… and the results gave her something more to smile about.
If you would like more information on clear aligners, please contact us or schedule an appointment for a consultation. You can learn more about this topic in the Dear Doctor magazine articles "Clear Orthodontic Aligners" and "Clear Aligners for Teenagers."
By Gregory L Palozola D.D.S. P.C.
April 02, 2014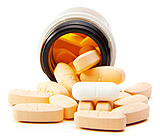 If you've come in to our office lately, chances are you've been asked to fill out a form or answer a question about what medications — both prescription and non-prescription — you are currently using. Of course, if you're taking a blood-pressure drug or a pill to help control your cholesterol, you wouldn't hesitate to put it on the list. But how about those vitamins and herbal supplements you take — do you really have to list those too?
The answer is a definite yes — and some of the reasons why may surprise you. Did you know that many "natural" dietary supplements can have potentially serious interactions with other drugs you may be prescribed? For example, herbal preparations made from the plant called St. John's Wort are often used by people seeking relief from depression or anxiety. However, the active chemical compounds in this herb can interfere with some anesthetic drugs, and may make it harder for you to recover from the effects of anesthesia. Ginkgo biloba and some other commonly used herbs have a similar effect.
Even some vitamins have the potential to cause negative interactions. Large doses of Vitamin E, for example, can increase the risk of internal bleeding in people who are taking blood thinners or non-steroidal anti-inflammatory medications (NSAIDS), such as aspirin and ibuprofen. These medications are commonly prescribed for pain relief after minor dental procedures.
Does that mean you have to stop taking vitamins and herbal supplements if you may need a dental or medical procedure? Not necessarily. Vitamins are indeed vital to your health, and a deficiency in one or more of these important substances can result in serious diseases — like scurvy, which formerly plagued sailors lacking access to fresh fruits and vegetables. If you've been told you have a vitamin deficiency, taking vitamin pills is a must.
But the best way to get the proper amount of vitamins is through a healthy, well-balanced diet rich in fruits, vegetables, and whole grains. Not only does consuming these foods give you the most "natural" source of vitamins — it also provides you with other essential micronutrients and fiber, and it is low in fat and cholesterol.
No nutritional supplement is a substitute for a healthy diet — and that's something we'd like everyone to remember. We'd also like to remind you to tell us about ALL the medications and supplements you're taking, especially if you're going to have a procedure. Giving us complete information will help ensure that you'll remain as healthy and safe as possible.
If you have questions about dietary supplements, nutrition and your teeth, please call our office to arrange a consultation. You can learn more in the Dear Doctor magazine article "Vitamins & Dietary Supplements: What Every Consumer Should Know."