Posts for: October, 2013
By Gregory L Palozola D.D.S. P.C.
October 16, 2013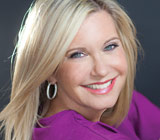 Though it's been a while since Olivia Newton-John sang her way into our hearts in the movie Grease, her smile is as radiant as ever. Today, Olivia is still singing, acting and busy with new ventures such as authoring a cookbook and raising money for the cancer center that bears her name in Melbourne, Australia. Whichever part of the world Olivia finds herself in, she protects that beautiful smile with an oral appliance that many find beneficial.
"I wear a nightguard to prevent wear on my teeth, custom-made by my dentist," Olivia recently told Dear Doctor magazine. "I love it!"
Olivia's device, also referred to as a bite (occlusal) guard, is designed for people who clench or grind their teeth at night, or during stressful periods. Made of thin, wear-resistant plastic, it is custom-made to fit exactly over your top teeth. This allows the bottom teeth to slide gently across the top teeth without biting into them. Not only does this prevent excessive tooth wear, it also helps relax the muscles of the jaw.
Grinding or "bruxing," as it's also called, can affect virtually any part of the oral system: the jaw joints or muscles, resulting in spasm and pain; the teeth themselves, resulting in wear, fractures or looseness; it can even cause an aching in the ears, head, neck or back.
If you are a teeth-grinder, you might not even know it unless a sleeping partner hears it or your dentist notices signs of wear. These habits are called "parafunctional" (para – outside, function – normal), meaning the biting forces it generates are well outside the normal range — sometimes as much as 10 times normal. So it's no wonder that damage to teeth can occur if they are not protected.
If you have any questions about grinding habits or nightguards, please contact us or schedule an appointment for a consultation. If you would like to read Dear Doctor's entire interview with Olivia Newton-John, please see "Olivia Newton-John." Dear Doctor also has more on "Stress & Tooth Habits."
By Gregory L. Palozola, D.D.S., P.C.
October 01, 2013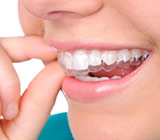 As soon as the braces come off, many people feel that the hard work in getting a new smile is all done. But wait! There's one critical piece of the process that remains: the orthodontic retainer. What makes this little device so important?
To understand that, let's look at how your teeth are attached, and how they may move. A tooth isn't anchored into the jaw like a screw in wood — it's joined to its bony housing by a unique, hammock-like suspension system called the periodontal ("peri" – around; "odont" – tooth) ligament. The periodontal tissues are living, constantly changing and renewing themselves.
Orthodontic appliances like braces are designed to apply just enough pressure to move the teeth slowly and steadily into new positions. As the teeth are moved, the periodontal tissue gradually re-forms around them, helping to hold them in their new locations.
But tooth, bone and gum tissues also have a "memory" which, if left alone, tends to move the teeth rapidly back to their original places. This unwanted movement gradually lessens, but it can be an issue for a long time after treatment. That's where the retainer comes in.
This little device holds the teeth steady in their new positions until the bones and ligaments have had enough time to re-form — a development that can take several months. It brings the entire process of moving the teeth to a gradual close, helps to prevent trauma and to maintain proper tooth location.
Once, all retainers were made of plastic and wire, and all were removable. These are still popular, and are usually worn 24 hours a day at first, then less often, until (after a period of time) they're only worn at night. Alternatively, in many cases a thin wire can be bonded to the inside surfaces of the front teeth. This type of retainer doesn't show, and it doesn't have to be removed.
How long will you have to wear it? It's hard to say. Teeth are kept in position not only by bone and ligament, but also by a balance of forces between the tongue, lips and cheeks. They aren't permanently fixed in place, but can move over time in a way that's unique to every person. Depending on the type of tooth movement done, we can recommend what type of retainer is right for you, and how often to wear it. Having the right retainer will help ensure you get the best result: a great new smile.
If you would like more information about orthodontic retainers, please contact us or schedule an appointment for a consultation. You can also learn more about this topic by reading the Dear Doctor magazine articles "Why Orthodontic Retainers?" and "The Importance of Orthodontic Retainers."